Clearance Carpets Huddersfield
Choosing a carpet is a big decision. Selecting the right colour, style and quality of carpet will finish your room, bring the décor together and make it feel like home. With over 30 years in the flooring business, we know just the impact that a new carpet can make, and we're here to help you find your perfect match.
 Carpet Styles
Our showroom carries a wide range of carpets for both domestic and commercial use. We stock good quality man-made carpets, most of which are polypropylene, which is stain-free, bleach-cleanable and anti-static but we also have some wools. Styles vary from week to week and include:
As we're a clearance carpet store, we sell from stock and not the pattern book. This means you can visit our warehouse, walk around and choose the carpet you want. You can then take it with you straight away, have it delivered within 24 hours or fitted the following week.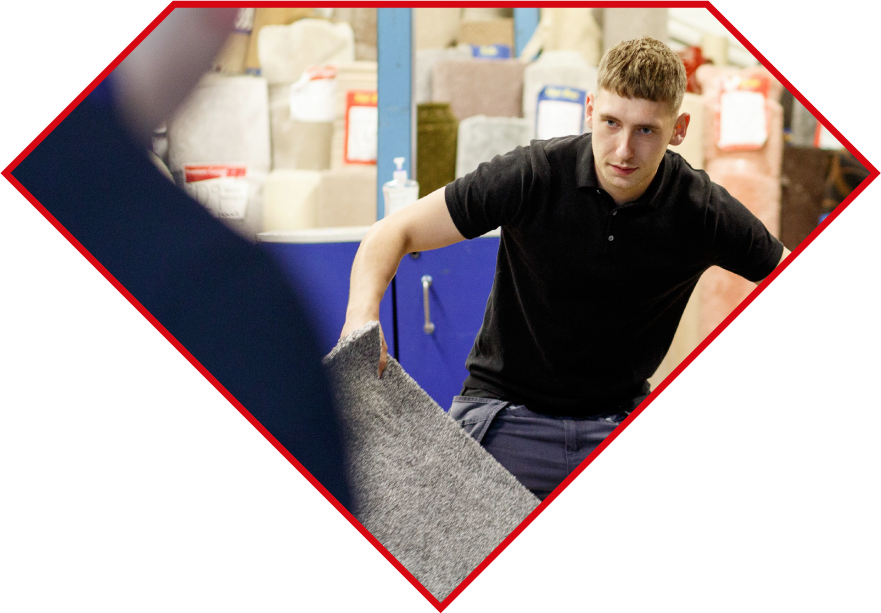 We have an extensive range of cuts, roll ends, part rolls, full rolls and 5 metre widths (as well as the standard 4 metre widths) – all on display – and you'll find every style from classic to contemporary, functional to flamboyant.
 You can get a good look at the colour, feel the texture and get a real sense of what it would look like in your home. If you don't find a carpet that is quite right for you, then you can visit us again in a few weeks to see what new ranges have come into stock.
Underlay
Underlay makes for better fitting when laying a carpet. It has many benefits including:
Extending the life of your carpet
Acting as a shock-absorber against a hard floor
Preventing the pile from flattening
Improving sound and heat insulation.
If you don't already have suitable underlay, ask our team and we can include it in your order.
Carpets for your business
If you need to fit out a high traffic area, why not look at some of our more hard-wearing contract carpets, particularly suited to businesses such as shops, offices, restaurants, pubs, hotels and care homes. Just let our team know where the carpet will be located and how the area is used, and they can show you the best styles to suit your needs.
Carpet showroom
With so many aspects of a new carpet to consider (quality, durability, style, and colour), making a choice can feel a little overwhelming. At Carpet Clearance Centre we'll give you an honest opinion – there's no rush, no pressure to buy and plenty of advice if you need it.
Carpet Remnants
We stock a variety of carpet remnants of all sizes – these can fit the smallest to largest rooms in your home. Remnants offer great value and are a quick and easy way to refresh a room at a low cost. You can simply pick the remnant you like and take it home on the day in your car or van or we can deliver. Carpet Remnants
We stock a variety of carpet remnants of all sizes – these can fit the smallest to largest rooms in your home. Remnants offer great value and are a quick and easy way to refresh a room at a low cost. You can simply pick the remnant you like and take it home on the day in your car or van or we can deliver.
Get in touch f you'd like to arrange our free measurement service or you can visit us at the showroom in Huddersfield to look around.
Excellent Customer Service in the shop! Amazing quality carpets! Love my new stairs carpet! Great Fitting! Thank you 😊👍 Definetely ready for Christmas now 🎅 Excellent service, really friendly staff,ordered at 10.30am delivered before 1pm the same day Brilliant service and excellent fitters do not hesitate to buy a carpet from here ! Quality value and very inviting.

rangooned 28
20:08 23 Oct 20
Amazing quality vinyl, great customer service and fantastic fitting. I highly recommend using this company. Good quality carpet great prices and good fitters

Paul Wilson-harling
05:28 12 Aug 20

Jennifer Berry
15:01 10 Aug 20
thank you to Alex who went above an beyond to help me , lovely friendly service no time wasted in helping us sort a carpet and underlay! 🙂 Bit of a late review but got our carpets for our first home from here. Amazing service and product. we get none stop comments about how well fitted and comfy our carpet is. Keep up the good work guys! 👍 Great service and good range of carpets and laminate think I must have used for 5 or 6 houses now. fitting is always spot on too. great company, great carpets. staff are very helpful nd fantastic prices . highly recommend Absolutely love my new stairs carpet fitted to perfection thanks you I had been recommended by a friend and I'm so glad I was. Going into the shop I was helped by the staff and given samples of carpet to take home. Luke came out and measured for the carpet and gave me an excellent price for the carpet and fitting. The carpet was delivered and fitted on my choice of day. I am really happy with everything Carpet Clearance have done for me and will be recommending them to family and friends.

Josie Dawson
17:03 02 Feb 18
Brilliant service, huge choice, friendly and professional staff and FANTASTIC prices

Allegro Optical
17:03 30 Oct 17
We only found carpet clearance centre recently but now we use them for all our carpets. They have loads of stock from basic through to highest quality. The prices are all brilliant and the fitting service was top class. Thanks to Mike and the tea. Great service.

Joe Martin
16:44 20 Sep 17
I have used Mike and the team to supply and fit quality carpets to my home on a few occasions now and I would highly recommend them. They are friendly, professional, reliable and supply a great range of competitively priced options. Mike was brilliant when we had a slight problem with the fitting of one carpet, he came to inspect the job and agreed he wasn't 100 satisfied with it. He arranged a new carpet to be installed at no extra expense. Great local business giving excellent customer service. We love our new carpet. Fantastic quality, an even better price and really good fitters. A1 service. You can't go wrong with these guys.

Lindsay Dobson
12:37 20 Oct 15
We never hesitate to recommend the Carpet Clearance Centre to our landlords and tenants - as well as friends and family!Mike and his team have a wealth of knowledge and a wide range of quality carpets and vinyl to suit any budget. You'll be 'floored' by the service.

SW Property
13:47 06 Mar 15
Highly recommend, we have just had our house carpeted by these guys, excellent quality carpets and very good to deal with. Thank you. Best value all round had all my house carpeted by them